KSW 76 Preview; Parnasse v Rajewski; Barosiński; Pawlak v Breese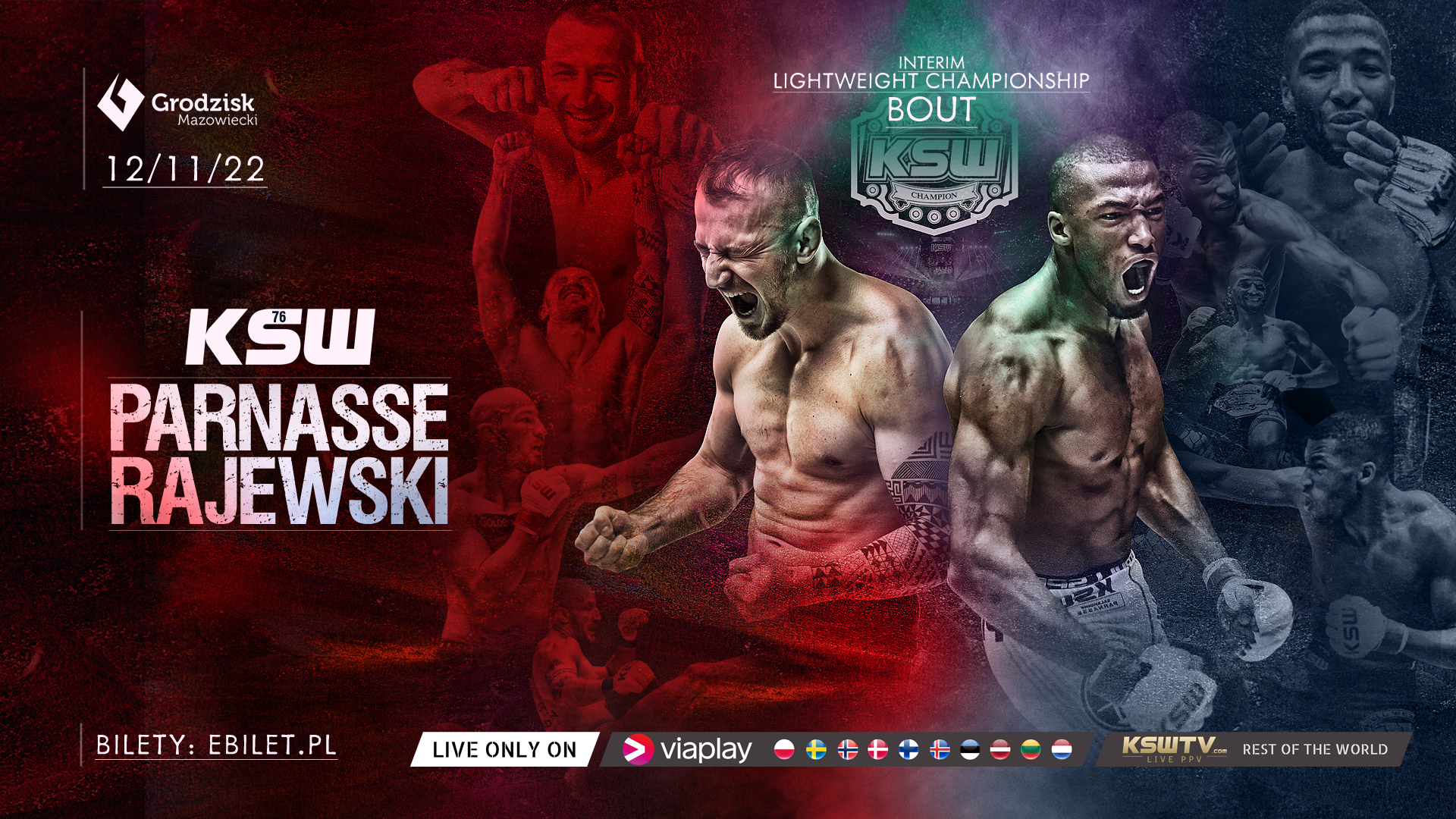 KSW return to our screens with a very exciting night of fights this Saturday. Grodzisk Mazowiecki will host KSW 76, a city about 40 minutes southwest of the capital Warsaw. Nine bouts will take place under KSW MMA rules, including one for an international KSW championship.
Salahdine Parnasse (16-1) is a man chasing down history. The Frenchman currently holds the KSW Featherweight Championship and was supposed to move up a weight to face champion Marian Ziółkowski, however the Golden Boy unfortunately had to withdraw due to injury. Instead the interim KSW Lightweight Championship is on the line in the main event. The Parisian is a phenom on the feet, a great technical striker with splendid footwork and cardio to go all day. His control of distance is superb. When it comes to finishing fights, it tends to be through submission after getting the better of it on the feet. The Atch Academy man has a very slick rear naked choke to look out for. Sebastian Rajewski (12-7) gave Ziółkowski a close fight in their title fight at KSW 71, with the judges scoring 48-47 in favour of the champion in a razor close fight. Rajewski is a Sanda specialist, a form of Chinese kickboxing. The Pole's striking style isn't too dissimilar to his opponent, great footwork and technique that outpoints most foes. The main weapon that threatens to end fights is his high head kick. The Czerwony Smok man has been putting in the hours on the wrestling mat with the likes of Mateusz Gamrot and Borys Mańkowksi to bring the grappling side up to a high level. This style matchup is very interesting, both men have similar strengths and we'll see who's better at applying it into game plans on the night.
We're blessed with one of the best welterweight scraps on the planet in what should serve as a title eliminator for the title vacated by Roberto Soldić. Adrian Bartosiński (12-0) is one of the best talents on the entire roster and he's laid waste to anyone who's challenged him. The Octopus Łódź man is a tornado of violence on the feet, with bludgeoning punches and vicious elbows putting all and sundry into the land of wind and ghosts. Once upon a time he used to finish fights with armbars and chokes, so the Pole is no scrub on the ground either. Bartoś is one of Europe's brightest stars. Krystian Kaszubowski (10-2) is the latest to be tasked with stopping the runaway train. The Mighty Bulls Gydnia man packs a heavy punch of his own. The 28 year old also loves elbows in the clinch and mixes up his striking with a dominant top wrestling game. Cardio isn't an issue for the Tczew man. There's a lot on the line between these two challengers.
Speaking of Soldić's vacant titles, we'll have another title eliminator in the middleweight division. Paweł Pawlak (20-4-1) looks like he comes straight from a Hitman video game, and quite frankly, he acts like it too. The Octopus Łódź man is always on the front foot pressing the action. The Pole is a volume striker designed to overwhelm you over a fifteen minute period. Durability is one of his biggest assets and he's never been stopped within the distance. Tom Breese (15-3) takes this matchup on short notice after Bartosz Leśko fell out with an injury. The Team Renegade man is the Levels Fight League MW champion. The Englishman is a high level Jiu Jitsu black belt with a great jab and some one stop shot power in his hands. He comes from a gym on a high at the moment after Leon Edwards won the UFC MW title (Leon holds a win over Pawlak) and a first UFC win for Jake Hadley over the weekend. Breese's biggest strength is in his submissions, with guillotines, arm triangles and rear naked chokes among his favoured techniques. Both men have been to the UFC and only lost to great talent there, so both are well equipped to understand the stakes in this one.
Brian Hooi (18-8) had one of the most memorable KSW debuts with a big win over Michał Pietrzak at KSW 72, a first round knockout win via elbows. The Dutchman is a flashy kickboxer with an impressive highlight reel. Head kicks, elbows and punches, the man doesn't do boring and he's only interested in finishing it early. Artur Szczepaniak (8-1) trains out of Belgium, so we have a bit of a Benelux derby on our hands. The Pole is strong in all aspects of MMA. He's accurate on the feet and can grapple very well. His only defeat was to the UFC's Benoit Saint-Denis. The longer this fight goes on, the more it favours Szczepaniak. Hooi will be looking for the early theatrics.
Maciej Kazieczko (8-2) is a kickboxer with a knockout threat. The Ankos MMA man's power lasts over the full fifteen minutes of combat. The Pole has been working a lot on his wrestling on the mats in Poznań. His only losses were to Ziółkowski and Gracjan Szadziński, with him now entering his prime he'll be keen to show he's at that top level. Francisco Barrio (10-2) is an accomplished Pan-AM medalling Greco-Roman wrestler. Submissions are where his victories usually come from, with guillotines and rear naked chokes being his biggest threat. If you allow him to grapple with you on the fence, you're in for a long night. The Argentinian trains out of Croatia currently at ATT Zagreb. He has trained out of SBG Ireland in the past. A great striker against a great grappler, a tale as old as time.
There's a little hidden gem on this card. Former KSW BW champion Antun Račić (26-10-1) is back in the circle cage after a win at EMC 9 in April. The Croatian trains at the infamous UFD Gym in Düsseldorf, home to the likes of Roberto Soldić and Abus Magomedov. The former title holder is a good striker with a nice wrestling game to mix it up. He doesn't finish many fights and his cardio is good to go the distance. The only flaw is he has a tendency to be in close fights that can go either way. Zuriko Jojua (8-1) is one of the next breakout stars of Georgian MMA. The Octopus Łódź man is also an allrounder, likely with an edge in the wrestling department. When it comes to finishes, submissions are most likely although he does have good power. His armbar is his strongest weapon. A win will catapult him up the rankings.
Henry Fadipe (12-9-1) will be flying the Irish flag at the weekend. The Fantom MMA man is a kill or be killed kind of fighter. He's going to sprint out of the blocks with punches, kicks and elbows with the sole purpose of rendering his opponent unconscious. Excitement is guaranteed. Albert Odzimkowski is a man after Fadipe's heart and never fails to put on a show. The Radom man is a judo black belt with a slick boxing game. His kickboxing is lethal and he loves to use his knees. The Pole is very experienced and can get it done wherever the fight goes. Odzimkowski recently beat Ireland's Tommy Quinn, so now has a taste for breaking emerald hearts. When not inside the KSW cage, Albert can be found at the commentary desk for the Polish ViaPlay broadcast. Do not blink.
Gracjan Szadziński (9-4) is one of the most violent fighters to step inside a cage. The Berserker Team man is an absolute terminator. The Szczecin native has one aim, to walk you down and hit your reset button. It would be unfair to ignore his wrestling and BJJ training with the likes of Michał Materla and Tomasz Narkun, however he doesn't employ it too often. Valeriu Mircea (26-8-1) is looking to bounce back from a defeat to Roman Szymański at KSW 71. The Moldovan comes in with a wrestling and judo background. The Rome based man is a finishing threat both on the feet and also with his guillotines. This is another one not likely to see the judges' scorecards.
Marek Samociuk (4-2) was the inaugural winner of Wotore's vale tudo tournament. The Biała Podlaska man is a decent grappler with a big threat in the ground and pound. Kamil Gawryjołek (2-0) is a brand-new signing from Strife MMA and steps in on four days' notice after Filip Bradarić pulled out with an injury. The Puławy man has won both career bouts to date with a first-round knockout. The big boys will kick things off on Saturday night.
KSW 76 is live from 6pm Irish time on Saturday and access can be purchased at KSWTV.com or on the ViaPlay subscription service in select countries.