Oktagon 35 Preview; Kincl vs Lohoré Title Fight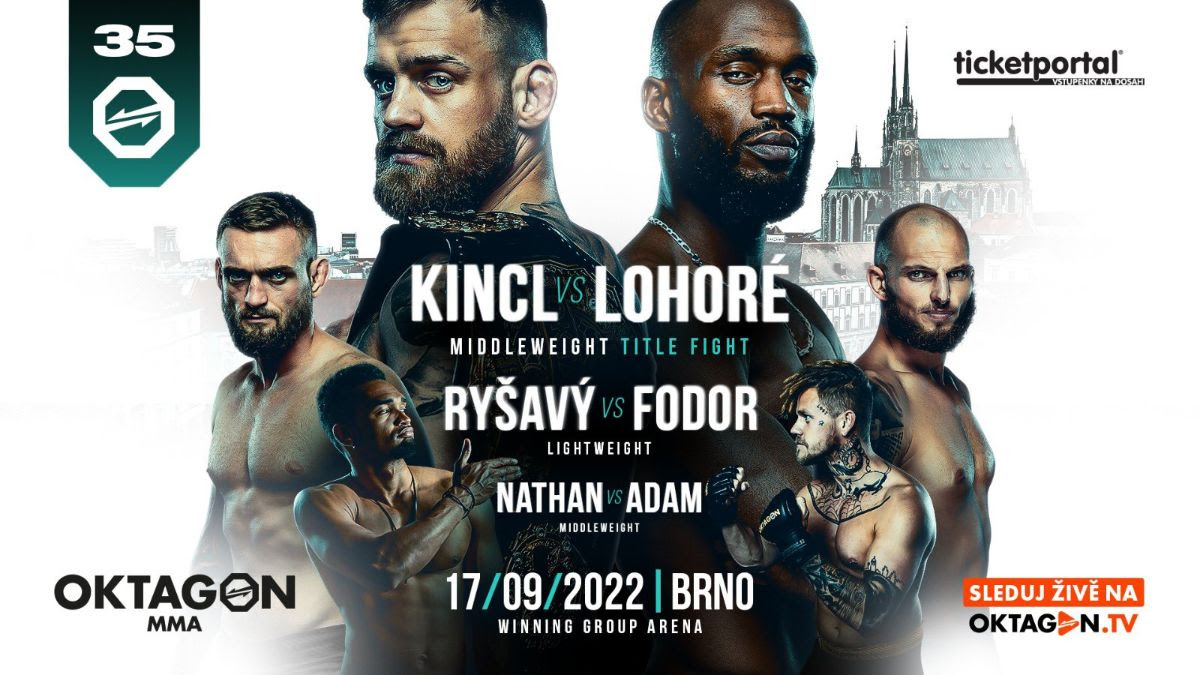 Oktagon 35 takes place this Saturday night at the Winning Group Arena in Brno, Czech Republic. This promotion has been making waves around Europe over the summer with big shows in the Czech Republic and Germany, garnering the attention of the big MMA media outlets. They're a Slovakian and Czech promotion and you'll find a nice mix of homegrown talent and international fighters. Their production is top notch and they'll bring an 11 fight card to our screens on Saturday.
The Oktagon Middleweight Championship is on the line in the main event. Patrik Kincl (25-10) has been one of the top names in the promotion since joining in February, a decision win against Samuel "Pirat" Krištofič. The Czech has competed at the highest level of European MMA, including facing Roberto Soldić for the KSW belt. He has won 6 of his last 7, with three coming via knockout. That is a testament to his great kickboxing skills and he can turn a fight around in an instant. He's a firecracker. On the opposite side of the cage will be Alex Lohore (21-7), a familiar face around the Ireland and U.K. scene. Back in the BAMMA days, he was a mainstay on the cards and he held the welterweight title. The Frenchman also had a stretch in Bellator and Cage Warriors. The 32 year old is a savage striker with a nasty guillotine. He doesn't go to many decisions. This main event is a powder keg ready to explode.
There will be Slovakian on Slovakian violence in the co-main event. Karol Ryšavý (10-4) is a man they call "Bomby" and that's what he'll be looking to land on the night. The Trnava is a kill or be killed kind of guy, he'll risk it all to finish the fight. Along with his big punches, he's another one who has a lovely guillotine. Try and take him down at your peril. František Fodor (9-6) is a man cut from the same cloth. The Bratislava native has won 3 of his last 4 by knockout against very game opponents. The only people I can promise that won't go to sleep in this one is the audience. Blink and you'll miss it.
Andrej Kalašnik (9-3) will play the role of hometown hero. The Czech is one of the most promising fighters on the roster. The Brno man is dangerous on the feet and on the deck. It's pick your poison on the ground, either give up your back or the heavy ground and pound will rain down. He's 6-2 under the Oktagon banner. Joel Dos Santos (15-6) is the latest Brazilian to hop across the Atlantic to try his hand out in Central Europe. The Dourados born fighter is an all rounder with nice variation in his submissions. He takes chances on the feet and if he lands solid, it's usually night night. Hit him first and you could have a lot of joy as he's been stopped multiple times on the feet.
Marek Mazuch (6-0) is one of the biggest prospects in Slovakia. The 26 year old was victorious in his Oktagon debut against Pim Kusters via split decision. If he's to finish this fight, it's most likely to happen on the feet. The one question is the inactivity, with his last fight coming in September 2019. We could be looking at a much improved version of Mazuch after three years out. It won't be an easy return to action with Ziko Makengele (4-0) standing opposite. The DR Congo born man is a finishing machine. Training out of Pretoria in South Africa, he's won all four of his pro wins via knockout in the country's extremely competitive EFC promotion. He has nice judo to go along with his heavy hands, and if he takes you down, his ground and pound is vicious.
David Moon (10-5) brings the Seoul to the party. The Korean trains out of Montreal in Canada and is 2-1 in the promotion. He possesses a lovely armbar, however has finished both his Oktagon wins via knockout. Jakub Dohnal (10-2) is another local lad and you might remember him from fighting George Hardwick on a Cage Warriors show a year ago. Following a defeat there, he came back to Czechia and won back in April via majority decision. The Brno man is an accomplished grappler who can punish you from top or bottom. He has a submission for every occasion. This might be the most underrated fight on the card.
James Lewis (7-4) will make his promotional debut. You might remember him from his split decision win against Keith McCabe a couple of years ago. The Englishman has also appeared on Cage Warriors and ACB. He has finished four of his wins by submission, both with chokes and with leg locks. Selim Topuz (6-3-1) is an all rounder. The Austrian has a nice kickboxing game. The worry will be his submission defence which Lewis will be looking to exploit. This is a major test for the Vienna native.
Ronald Paradeiser (13-8) is as game as they come and a member of the records are for DJs club. The toughest fights available are the ones he takes, with his losses coming to top opposition. The Slovakian is a good all rounder with a nice mix of knockout and submission finishes. Iamik Furtado (7-5) is another familiar name for Irish fans. The Guinea-Bissau man was defeated by split decision against Kiefer Crosbie at Bellator 240 in Dublin. He's a big, durable man who won't be easy to get out of there.
Robert Pukač (15-10-1) has been on a skid as of late, losing five of his last six. The Oktagon staple can mix it up well and can handle himself on the feet and on the mat. He's in dire need of a win. Tomáš Bolo (10-8-2) also has a saltier pro record, having gone 4-2-2 since 2018. The Slovakian has a couple of kimura wins to his name.
Next up is a couple of pro debutants. Nathan Christián
will take on Adam Raiter. We have very little to go on with these two, so we'll just have to see on the night.
Radovan Úškrt (5-3) is an ex foe of Marvin Vettori. The Slovakian is a block of a man which he translates into heavy punches. Al Matavao (9-5) is a former Dana White Contender Series contestant. The American fights out of Alaska and is an exciting knockout artist.
The YouTube free fight will feature a couple of light heavyweights. Jan Gottvald (9-3) will aim to get his hometown crowd off to a loud start. The 6ft5in Brno native is an athletic guy who will be looking to throw hands. Edilson França (9-7) is a newcomer from Brazil. He'll give up a five inch height advantage here and he'll likely try to either fight on the inside or take it down to the mat.
Oktagon 35 is live on Saturday night is live and exclusive on PPV at Oktagon.tv from 17:00 Irish time.