LFL 6 Preview; Welterweight Title, Aidan Lee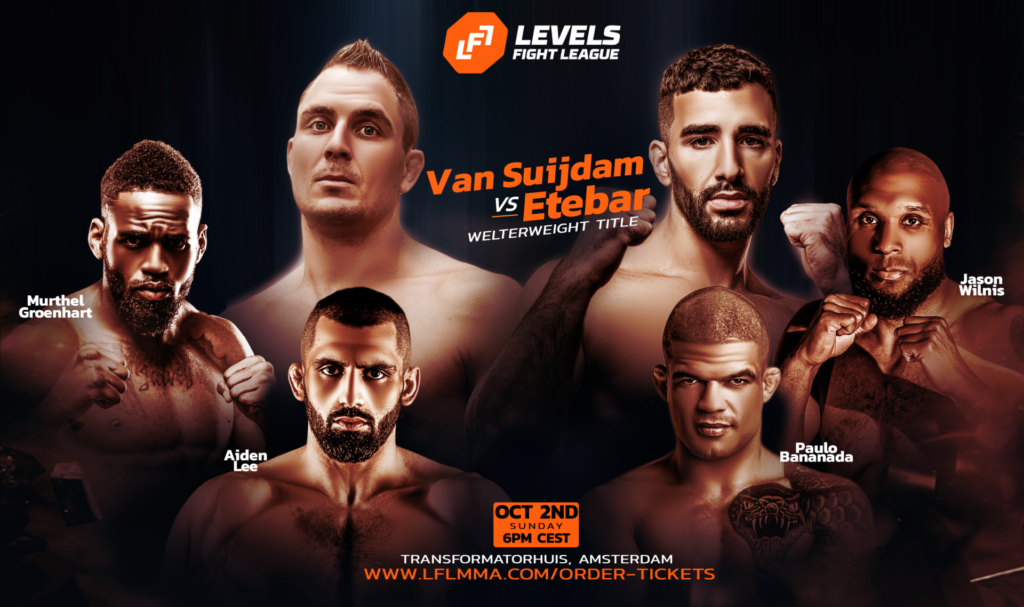 Levels Fight League is the next one up in a busy European MMA schedule. The Dutch promotion recently signed a big streaming deal with ViaPlay, one of the market leaders in the Scandinavian, Central European and Baltic regions. LFL 6 will take place in Amsterdam on Sunday, 2nd October. They'll run a ten fight professional card, including one for an LFL title.
The LFL Welterweight Championship is on the line in the main event and it will be contested over five rounds. Melvin van Suijdam (12-5) has been one of the biggest names on the BENELUX MMA scene over the last five years or so. He's been a pro since 2011 and has occasionally stepped up to European level with the likes of Brave CF and M-1 Challenge. The Almere man has a very flexible submission game and will threaten with leg locks, chokes from the back and chokes from the front. In addition, his stand up game is competitive and does damage in the ground and pound. Liam Etebar (8-1) is on an eight fight win streak. The Englishman won via knockout in his LFL debut back in June. Before that he was a wrecking machine on the English MMA local scene. His threat will be in the stand up game predominantly, however is also one who does damage in the ground and pound. The only question to be asked is the strength of opposition. van Suijdam will be both the more experienced fighter he's faced and the only one with a winning record. That's not to say he doesn't have the skills and he'll be looking to prove himself on Sunday. Only one way to find out and that's to throw down.
Jason Wilnis (2-1) is returning to the LFL cage after an unlucky stint in KSW. The big man broke his finger in the third round against Radek Paczuski at KSW 70. The former Glory kickboxer is now all healed up and ready to go in the promotion where he scored both his wins. As you can guess, he's a technical kickboxer who uses range well and if you make a slight mistake, he'll come in for the kill. Ahmed Sami (7-2) is a more experienced mixed martial artist. The Egyptian was defeated by Tom Breese last time for the middleweight gold at LFL 5. The 28 year old plied his trade on the Egyptian and UAE Warriors scene before making the hop over to Europe. He's got pop on the feet and a very nice armbar in his arsenal. Stylistically you'd expect him to try and take this to the ground, however it's easier said than done. Winner should be knocking on the door of a title shot.
Murthel Groenhart (2-0) is another ex Glory kickboxer that's switched to MMA. The Dutchman trains out of the famous Vos Gym in Amsterdam. Both his wins came in Levels, including a superb flying knee knockout at LFL 4. The 35 year old is similar to Wilnis, technical kickboxer who'll wait for his moment to pounce, and if it doesn't arrive, has the patience to outpoint the opposition. Max Siewruk (1-1) is training out of Spain. The Pole has had the most success in his Jiu Jitsu game in his career. Beware of his guillotine and be careful in the scrambles as he can be a tricky customer. In this fight though, he's not going to pose much threat on the feet. Whatever it takes, he needs to get the fight into the grappling realm. Groenhart will be favoured to finish this before the final bell.
Aiden Lee (10-6) is the latest big name signing at Levels Fight League. The Englishman comes in from Bellator, where he had a competitive run. Prior to that, he had a nice spell in Cage Warriors and had a fight for BAMMA. Training out of Team Renegade, Lee has a real pedigree to his game. Like others in the gym, his Jiu Jitsu is splendid and if you find yourself in those exchanges, he invariably ends up getting a submission. An expert in taking the back and getting the rear naked choke, you also have to beware of his leg lock game. Combine that with a serviceable kickboxing game, you have a very good fighter indeed. Paulo Bananada (28-21) is an experienced martial artist. The Brazilian has fought all over Europe in regional favourites Serbian Battle Championships and GMC, along with some bigger names in EMC and Brave CF. The 37 year old has also fought in Africa for EFC and extensively in his native South America. He's not much of a finisher, and when he does get one, it's usually via submission. Striking defence has been an issue in recent times. It will be his fifth fight of the year, so ring rust is no issue. Lee has the quality to overcome any obstacle in this one and should get off to life in LFL with a win and probably a finish.
Rounding out the main card is Alain Van De Merckt (1-0). The Belgian had a stunning debut at LFL 5, knocking out Milan Simonovič within two minutes. "Neder" has a couple of wins on the Cage Warriors amateur scene. The light heavyweight packs a big punch and usually doesn't reach the scorecards. Patryk Molka (5-4) comes in with the experience advantage. The Pole has mainly competed on the local Polish scene, however recently won in Holland over the summer. The Rawicz invariably finishes his fights with strikes. We could see a standup battle between these two big men.
Gino van Steenis (2-0) headlines the prelim portion of the card. The young Dutchman makes his promotional debut. The 24 year old has finished both his pro fights, one by knockout and one by submission, illustrating his flexibility. Adrian Osmański (2-1) had an impressive win against Krzysztof Kamiński at Babilon MMA 30 in July, winning by knockout by way of vicious elbows. The Słupsk man is a hardy gentleman and is ready to battle anybody. This should be fireworks.
Massaro Glunder (0-1) is yet another Glory kickboxer to turn to MMA. The Dutchman trains out of the famous Mike's Gym. A tough test awaits in Silvis Jansons (2-0). The Latvian had a very strong amateur career and has flown out of the blocks as a pro. He comes in from Versus where he won two fights, including one by rear naked choke. Jansons' strength is his grappling, excelling in armbars and triangles.
David Casal Moldes (0-1) and Wesley Fokker (0-2) are two Dutchmen looking for their first pro wins, and barring a draw, one will get it on Sunday. Moldes lost to Wilnis at LFL 4. The 20 year old has a decent striking game. Fokker was beaten by Suli Abdeselam Mohamed at LFL 3. He's had the most joy with his grappling to date. Somebody's 0 has got to go.
Cherif Larossi (1-2) is looking to bounce back after a defeat to Luke Riley at Cage Warriors 142. The young Dutchman is a decent all rounder, with his only pro win coming via rear naked choke. Stav Koren (1-0) puts his undefeated streak on the line. The Israeli hasn't fought since 2016, back when he was just 16 years old. It was a unanimous decision win that night. 6 years on, we could be looking at a totally new fighter this time around.
Nika Tchikhinachvili (debut) fights out of Holland, however with such a surname, you'd imagine he has Georgian roots. He was victorious on the amateur section of LFL 4 and is a submission expert with nice stand up. The pro game is a step up though. Mohamed Tini (1-0) won his pro debut by submission in the first round back in April. Should be a nice light heavyweight scrap to kick things off.
Levels Fight League 6 is live on Sunday night at 17:00 Irish time. The event can be purchased on PPV by clicking the link on LFLMMA.com/events or on ViaPlay streaming service in selected regions.